Meet the Instructor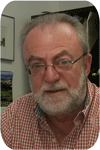 Josef Jurkovic
Josef Jurkovic is a CEC director and founding partner. He has over 35 years of public and private sector experience across diverse areas of internal and external communications, public consultations, branding and marketing.
---
Testimonials
"Knowledgeable presenter. Plenty of opportunity for discussion and to share hands-on experience."
"Provided us with tools and resources to use in our work."
"I really appreciated the level of expertise demonstrated by the instructor and the examples he could provide based on his experience."
"The framework concepts are big picture/simple ideas to understand."
"I appreciated the opportunities to network and to hear about expereiences from participants in other organizations."
"Josef is an inspirational instructor. I really enjoyed his personality and expertise."
"The exercises were well thought out and applicable to the material."
"Well organized case studies were relevant, material and resources well prepared and useful."
"Course materials can be used when I get back to work."
"Josef has a strong background in the material."
---
G012
EFFECTIVE STAKEHOLDER
COMMUNICATIONS AND ENGAGEMENT
NOTE: The workshop content described below will be delivered through ZOOM ONLINE on two consecutive half-day sessions. Agendas and other relevant workshop documentation will be sent to you by the workshop instructor at least three days prior to the date of the first session.
WHY SHOULD YOU ATTEND?
Imagine you're about to launch a new policy, regulations, program or a project that can have a wide-ranging impact on your work and on your internal and external stakeholders. You need the collaboration and support of a variety of people. To get things done at work and to sustain continued successes, one must rely on the goodwill and support of others. Securing support from well-informed, influential, and powerful stakeholders can help win the much needed resources (human, financial, physical and other) for the successful completion of a program or a project. In order to gain stakeholders' active and sustained support, it is essential to communicate with them early, frequently, regularly about what you are doing and the benefits of your project for them.
The ability to build effective rapport and relationship with stakeholders provides managers with a distinct advantage in managing expectations, dealing with difficult situations and negotiating their way to a positive end result. Understanding the stakeholders' communication and decision-making styles and personal preferences as well as what motivates them, creates an effective pathway for a committed and results-driven business relationship. Stakeholder communication and engagement is a valuable strategy that successful people use to win others' support. The workshop outlined below will help you learn how to identify the key stakeholders who have to be won over and kept informed and involved in a way they like, prefer and appreciate so that your efforts lead to success.
WHAT WILL YOU LEARN?
Successful completion of this workshop will enable participants to:
Identify influential stakeholders for a project or program
Gather critical information about stakeholders' communication needs
Determine stakeholders' communication and decision-making styles
Establish rapport and develop mutual understanding with stakeholders
Create persuasive stakeholder presentations
Determine your power or sphere of influence with each stakeholder group
Apply best practices in stakeholder engagement and communication
Understand the importance of moving from "transactions" to "relationship" mode
INCLUDED IN THIS WORKSHOP:
Participant notebook consisting of presentation slides
Exercises and handouts
A link to post-workshop resources available for download
Certificate of completion
PROFESSIONAL COMPETENCIES:
Engagement: Working effectively with people, organizations and partners
Agenda
8:45 - 9:00
Introductions and Workshop Overview
9:00 - 9:45
Stakeholders: Definitions and Roles

This segment includes discussion of:

Stakeholders defined - who they are
Internal vs. external stakeholders
Vertical, horizontal and other stakeholders and implications
Distinguishing stakeholders as "political", non-political, others
Factors influencing stakeholder relations
Stakeholder roles and influences
Differences between communications, engagement and relationships

9:45 - 10:00
BREAK
10:00 - 11:15
Stakeholder Identification and Analysis

Profiling stakeholders — characteristics, power, interests, postures
Groups as stakeholders — opportunities and challenges
Prioritizing stakeholders
Approaches to stakeholder analysis

Case Study Exercise:
Prioritizing stakeholders based on established criteria.
11:15 - 12:30
Communicating with Stakeholders: Value in building a Relationship

Engaging the stakeholders
Determining their communications and decision-making style
Using appropriate communications protocol
Building interest (stakeholders' interest in the program project)
Asking the right questions and active listening
Determining stakeholders interests

Case Study Exercise:
Assessing Risks and Impacts
12:30 - 1:30
LUNCH
1:30 - 2:45
Stakeholder Communications: One Strategy or Many?

Understanding and planning stakeholder communications
Communications tools and methods
Ascertaining the appropriateness of different communications and stakeholder engagement models, tools and techniques

Case Study Exercise:
Responding to Senior Management Needs
2:45 - 3:00
BREAK
3:00 - 4:00
Moving Stakeholders from Supporters to Advocates

Guiding principles
Moving stakeholders along the change continuum
Approaches to managing stakeholder expectations
Influencing skills and styles
Tips for effective stakeholder communications

Case Study Exercise:
Stakeholder Communications Strategy
4:00 - 4:15
Wrap-up and Evaluation