The 411
This workshop is only available on an in-house basis. Email us for pricing and to arrange for delivery of this workshop to your team.
---
Meet the Instructor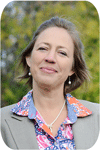 Sylvia Larrass
Sylvia Larrass is a CEC Associate and voice and presentation delivery expert who brings a unique blend of public speaking expertise and performing arts experience.
---
Testimonials
"I found the exercise of actually delivering a speech extremely beneficial. The feedback from Sylvia, as well as the other participants, not only helped me recognize areas I had to work on, but also gave me a real confidence boost! The class size was perfect and individual attention very high. Sylvia's presentation skills are superb and the discourse between students made the workshop even more engaging. The workshop has something for both seasoned public speakers and those who are not yet fully comfortable with speaking in public. Being one of the latter, I thoroughly enjoyed participating in it and came away with greater confidence in my presentation skills"
"I appreciated the priority Sylvia placed on vocal health, as well as her knowledge of the connection between the voice and both physical and emotional aspects of health. Sylvia was successful in building my confidence to the point where I looked forward to public performances and always left a session with her feeling better than when I arrived"
"Thank you so much for the session you shared with us yesterday. I learned a great deal about the subtleties of voice regulation, physical presentation and presence. The whole approach of discussing the process of presenting, in itself, as separate from the content is novel, particularly in an education setting where we must use presentation to convey our content and it can be difficult to separate the two. As with so many mental training skills, we often consider presenting skills to be something we "have" or "have not". It was great to put them into the realm of skills development with some guidance rather than the usual, "practice makes perfect" attitude"
---
G070
PUBLIC SPEAKING:
MAKING AND MAINTAINING AN IMPACT
NOTE: Due to the nature of this workshop, a maximum of 8 participants will be accepted into any scheduled session(s).
WHY SHOULD YOU ATTEND?
Delivering information in a clear and effective manner when giving speeches and presentations can be a challenge. And it's a challenge an increasing number of professionals must meet as information overload forces more and more reliance on oral information transmission.
If you need to make a professional, competent and compelling impression before an audience - whether speaking at conferences, at events as part of outreach activities, addressing stakeholder organizations and conducting consultations or presenting to working groups and committees - this course is for you. This course will:
Help you develop a strong voice and physical presence;
Give you the tools you need to make a professional impact on your audience; and
Ensure you get your messages and ideas across.
WHAT WILL YOU LEARN?
How to connect with your audience.
Techniques that will help you project your voice effectively to your audience.
How to create and maintain a physical presence while delivering your core messages.
Other specific public speaking and related techniques.
Each participant will have ample opportunities to practice speaking and receive feedback in an open and creative environment.
WHAT WILL YOU TAKE AWAY?
Exercise hand-outs
Participant workbook
PROFESSIONAL COMPETENCIES
Engagement: Working effectively with people, organizations and partners
Agenda
8:45 - 9:00

Introductions and Workshop Overview
9:00 - 9:30
Your Voice as Part of your Public Speaking Image:
Self-Evaluation and Discussion

How do you perceive your voice, physical presence and overall public speaking skills? How do you think others perceive you as a speaker? Addressing challenges.
9:30 - 10:30
Dealing with the Essentials:
The Indispensable Components of Public Speaking

Define your audience - who are you speaking to and why; what is the context/occasion; what are you trying to deliver, i.e. what are your key messages and ideas; and - what results are you hoping to achieve - to inform? persuade? move to action?; organizing/structuring your remarks.

10:30-11:30
Exercise

Participants take the floor and make a short a short presentation about themselves and their work, followed by instructor feedback.
11:30-11:45
Break
11:45-12:30
Dynamics of the Voice:
Making your Voice your Ally

Introduction to the dynamics of the voice; exercises for focus, projection and overall vocal strength.
12:30 - 13:30
Lunch

13:30 - 14:45
Making an Impact and Captivating your Audience

How to stay focused and connected to one's message and intent. How to maintain a strong physical presence. What constitutes a powerful and authentic voice and presentation style; the importance of enthusiasm.

Exercise: Participants take the floor and make a presentation followed by instructor feedback.
14:45 - 15:00
Break
15:00 - 16:15
How to Win your Audience

Reaching and keeping your audience - Developing a unique and authentic presentation style. Examples from famous speeches, theatre, etc.
16:15 - 16:30
Wrap-up and Workshop Evaluation

Participants will complete a short evaluation