Meet the Instructor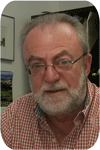 Josef Jurkovic
Josef Jurkovic is a CEC director and founding partner. He has over 35 years of public and private sector experience across diverse areas of internal and external communications, public consultations, branding and marketing.
---
G116
EFFECTIVE ONLINE PRESENTATIONS, BRIEFINGS AND POWERPOINTS:
BEST PRACTICES FOR ENGAGING ONLINE AUDIENCES
NOTE: Due to its nature, this workshop is limited to 12 participants/workshop.
WHY SHOULD YOU ATTEND?
We live and work in an online world dominated by virtual briefings, presentations, endless PowerPoints and speeches. Online delivery of diverse types of briefings and presentations is a unique experience characterized by absence of physical, face-to-face engagement of all involved. Without a doubt, presenting online to any audience involves a range of additional challenges regardless of the level of experience and confidence we have as speakers, briefers or presenters. Key among these are skills and techniques of engaging online audiences as well as staying engaged and focussed ourselves as presenters, including:
determining and taking account of the physical setting and its impact upon delivery;
online voice level, speaking style and adaptation to the audience;
online posture and body language;
online use of visual aids; and
dealing with online distractions, interruptions and questions.
This workshop brings together diverse strategies and approaches to online presentations and briefing, including Do's and Don'ts of online presenting, online delivery and audience engagement techniques. The workshop also includes the essential steps to creating, structuring and delivering the right content which takes into account key characteristics of different online audiences and diverse briefing objectives.
WHAT WILL YOU LEARN?
The purpose and structure of a briefing note
How to approach and organize a briefing note
How to write in a clear and concise manner
How to express the issue succinctly and summarize information
How to produce briefing notes that meet departmental requirements
WHAT WILL YOU TAKE AWAY?
How to:
Use a step-by-step approach to develop online briefings and presentation
Assess and address the needs and expectations of the audience
Decide what to include and leave out
Develop and reiterate relevant messages that resonate in the online context
Apply audience analysis – perspectives, needs and priorities – as a key determinant of briefing or presentation content, structure and delivery style
Comfortably deliver different types of online briefings and presentations to different audiences and events
Deal effectively with questions during and after the briefing or presentation
Incorporate main elements and tips of online body language
Apply the correct online delivery techniques, using speaking notes and visual aids
Prepare for the online briefings or presentations
WHAT WILL YOU TAKE AWAY?
A comprehensive set of participant documentation, including presentations slides
Workshop exercises, tips and best practices handouts
Increased confidence for future development and deliveries of your briefings and presentations
Certificate of completion
PRE-WORKSHOP ASSIGNMENT
Upon registering, participants will receive the pre-workshop assignment details including a questionnaire and preparation of a briefing or a presentation to be delivered by each participant during the workshop.
PROFESSIONAL COMPETENCIES
Engagement: Working effectively with people, organizations and partners
Agenda - Day 1
8:45 - 9:00
Introductions and Workshop Overview

9:00 - 10:15
Planning and Developing Online Presentations

A strategic approach to online presentations; differences between written and oral communication; audience analysis - "who am I talking to" and "what's in it for me;" setting objectives for different types of online presentations; determining and crafting key messages and the "residual message" – the main point or points your audience should take away from the presentation; structuring the presentation for online delivery; determining content – what and how much; key points to keep in mind before, during and after delivering online presentations.

10:15 - 10:30
Health Break
10:30 - 12:30
Individual (Homework-Based) Presentations, Structured Peer Review, Discussion and Instructor Feedback – Part I
Agenda - Day 2
8:45 - 9:15
Review of Day One – Qs and As
9:15 - 10:30
Online Delivery Techniques, Use of Language and Visuals

Do's and Don'ts of presenting online; key differences between online and face-to-face presentations; using PowerPoint and speaking notes online; choosing your words and using your voice; speed, pace and tone for online presentations; simple and proven techniques for overcoming nervousness; dealing with questions; different approaches to online questions and answers; a system for staying "on the message"; using plain language; being conversational and engaging during online presentations – tips and best practices.

10:30 - 10:45
Health Break
10_45 - 12:15
Individual Presentations, Structured Peer Review, Discussion and Instructor Feedback- Part 2
12:15 - 12:30
Questions and Answers, Wrap-up and Workshop Evaluation