Meet the Instructor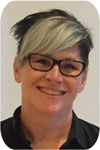 Stacey Simpson
Stacey Simpson is a CEC associate who has worked in communications and web/social media for numerous federal government departments and other public sector organizations both as a Public Servant and a consultant for over 12 years. She has extensive knowledge in communications planning for internal and external stakeholders, social media and web design, as well as the development of print and online graphics, and marketing pieces.
---
Testimonials
"This course offered a great opportunity to look at real-life examples of our own work and allowed us to examine what was working well and areas to improve. Feedback from the instructor and others in the class was very beneficial."
"Great examples of what works better in terms of rewriting content"
"Instructor was very knowledgeable."
"I had limited knowledge of writing tips for social media and I feel much more prepared to participate in social media activities at work and incorporate it into my strategies. The simplicity in which the information was presented really helped."
"This course helped me pull together all of the questions I had about various social media platforms."
"I enjoyed the open discussion - and that open discussion was encouraged - between the members of the class. This was a very good course - the Twitter discussion, specifically."
"Very relevant! I liked learning about the 'so what?' factor - boiling content creation down to the most relevant parts."
"Loved getting feedback on my own social content/pages. Liked learning about other organizations' struggles. It really gave me good techniques on writing plain and engaging content."
"Very well put-together course that challenged us to edit and re-write content. Helped us develop a new and more critical lens."
"I really liked the interactivity and the real-world examples. Vicki made the course really relevant by doing this."
---
G080
EFFECTIVE WRITING FOR SOCIAL MEDIA
NOTE: The workshop content described below will be delivered through ZOOM ONLINE on two consecutive half-day sessions. Agendas and other relevant workshop documentation will be sent to you by the workshop instructor at least three days prior to the date of the first session.
WHY SHOULD YOU ATTEND?
Great, your department now has its own blog, just set up a Facebook page and has started with Twitter! Maybe you're even on Instagram! But now what? What do you say and how do you say it? Can your content help boost subscribers? How are my subscribers accessing my content- is it web or mobile? What strategies and approaches should be used to ensure success...and by the way, what is success for social media anyway?
These and other fundamental questions on the minds of government and corporate communications people will be answered in this fast-paced, ground-breaking workshop designed to show you how social media content can help achieve your department's overall communications goals.
You'll gain a strong understanding of how social media writing differs from print, and even traditional online writing; how to avoid writing for an "audience" and connect one-on-one; create a social media content strategy and become proficient at writing for the myriad of social networking sites and platforms.
WHAT WILL YOU LEARN?
How to turn social media content into results for your organization
Case studies on how social media has changed the corporate landscape
How to create a social media content plan and define its success
What you can and should say, and what you shouldn't say
The fine art of building relationships and why that is integral to your success
How to engage your audience and avoid trying to "convince" the reader
How to tell a compelling story that's well positioned to go viral
How to stay on top of social media trends and changes
Successful approaches to Blogging; Is Blogging even for you?
How to write content that people want to share
How to position and write a social network press release
Ways to build subscribers, fast
How to handle bad news and respond to negative feedback
How to acknowledge the outside world and escape the bubble syndrome
Which social network is best for you (or do you use them all?)
How to write for each major social network
Using content to build your online brand
Effective social networking headlines
How to make social media linkages back to your main web site(s)
A look at writing social media content for both web and mobile platforms
WHAT WILL YOU TAKE AWAY?
Ranking of social media channels by customer communication, brand exposure, traffic generation and SEO (Search Engine Optimization) impact, showing how each tool can help you achieve organizational goals
Building an organization with social media
Building your reputation via social media
Learn how to write with both web and mobile platforms in mind
A strategic approach to using Twitter and Facebook and other emerging platforms
PLUS, a social media writing guide checklist and participant notebook containing presentation slides
PROFESSIONAL COMPETENCIES
Citizen-Centered Communications
E-Communications
Written Communications
Agenda
8:45 - 9:00
Introductions and Workshop Overview
9:00 - 9:15
What's it all About?

Why social media is popular / philosophy behind social media
Social media for government
Social media for corporations
Can social media content really help achieve your business goals and, if so, how?

9:15 - 10:00
Planning your Social Media Content (Exercise 1)

Settings goals and expectations
Choosing platforms (infographics)
Matching communication approaches to platforms
Choosing topics and types of communication (press releases, announcements, etc)
Using content to build and strengthen your brand
Asking for ideas and feedback
Planning for good and critical feedback
Using content to build subscribers
Setting up a collaborative team
The "now" mindset
24/7 social media response times

10:00 - 10:15
The Do's and Don'ts of Effective Social Media Content
10:15 - 10:30
The Art of Effective Short Form Writing

Identifying worthwhile content for your reader and delivering it fast

10:30 - 10:45
Break
10:45 - 12:00
Social Media Writing Basics

Headlines
Linkages
Succinct, snappy, conversational writing
Engagement writing
Video captioning
Story telling
Content to share

12:00 - 13:00
Lunch
13:00 - 13:30
Review of Social Networking Web Sites

Based on the morning lessons and exercises, the group will go online and examine various government and corporate social networking sites to discuss the pros and cons of each.

13:30 - 14:00
Blogging

In the following sections, you'll learn to write for the various major social networking tools, starting with blogs and ending with YouTube.

14:00 - 14:30
Twitter
14:30 - 14:45
Break
14:45 - 15:15
Facebook
15:15 - 15:30
YouTube
15:30 - 16:00
Review / Questions and Answers
16:00 - 16:15
Wrap-up and Workshop Evaluation

Participants will complete a short evaluation