Meet the Instructor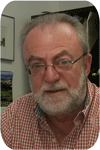 Josef Jurkovic
Josef Jurkovic is a CEC director and founding partner. He has over 35 years of public and private sector experience across diverse areas of internal and external communications, public consultations, branding and marketing.
---
Testimonials
"Enjoyed the exercises and how the trainer seeked examples from the different participants. Was enlightning to see how other departments/organizations deal with media."
"Excellent course to understand the media environment and how to utilize it to our advantage."
"Great and well-informed instructor. Good content, exercises and useful materials. I've taken many professional training workshops and this one was by far the best - in tone, content and delivery."
"The course encouraged dialogue among peole from different agencies. Great to see a variety of perspectives."
"I appreciated the range of discussion - from media trends and today's realities for the media to the components of strategy, planning and crisis preparations."
"I liked the overview of media relations, especially in the context of government. Examples provided were helpful in understanding the content."
---
G041
SUCCESSFUL MEDIA RELATIONS
NOTE: The workshop content described below will be delivered through ZOOM ONLINE on two consecutive half-day sessions. Agendas and other relevant workshop documentation will be sent to you by the workshop instructor at least three days prior to the date of the first session.
WHY SHOULD YOU ATTEND?
Today's media business is dominated by competition for attention and advertising dollars, editorial policies, transformation of the traditional news and reporting cycles and the impact of social media technologies. The media relations function now encompass a wide range of activities, including Ministerial communications, briefings, spokespersons, media kits, web and social media strategies and much more. Is media relations art or science? And if it is both, as most practitioners believe, how can we define and achieve desirable results for our organizations? The business of media is also changing through increased integration with a major impact on how reporters work and what they need from media relations officers. Against this background, developing and integrating media relations strategies into overall communications is an important skill for all communicators. The difficult part is the process of actually translating media strategies into reality, of building professional relationships with members of the media and, perhaps most important, achieving recognition of the organization and its media relations officers as credible sources of information.
WHAT WILL YOU LEARN?
Current media realities and expectations
The Do's and Don'ts of dealing with the media
How to develop an effective media relations strategy
How to monitor and measure media coverage
Identifying and managing issues in a media context
How to integrate media relations with strategic communications
Crisis communications and dealing with the media
WHAT WILL YOU TAKE AWAY?
Presentations slides in the form of a participant notebook
Exercises and handouts
PROFESSIONAL COMPETENCIES
Engagement: Working effectively with people, organizations and partners
Agenda
8:45 - 9:00
Introductions and Workshop Overview
9:00 - 9:45
Media Today

Key changes in the media business. Integration, technology and the newsroom. The changed role of the reporter. Evolution of societal and media issues.

9:45 - 10:30
Media Relations

Integrating media relations into strategic communications. Media context. Media relations as a function. Media news filters.

Exercise: Media Scenario - SWOT analysis.

10:30 - 10:45
Health Break
10:45 - 11:15
"Sine Qua Non" of Media Relations 

Myths and realities. Basic tenets and principles. Different journalistic styles. Research. Dos and Don'ts of media relations.

11:15 - 12:30
Developing a Media Relations Strategy: "Will the Shoe Fit?"

Components of a media strategy and plan. Expected and realistic results. Role of research. Segmenting the media. Context and drivers. Short term v. long-term strategies. Determining the "right" strategic approach. Assessing the risks.

12:30 - 13:15
Lunch
13:15 - 14:00

Exercise: Crafting a media relations strategy.

14:00 - 14:30
Media Tools

Tools for knowledge, cooperation and coverage.

14:30 - 14:45
Health Break
14:45 - 15:15
Implementing and Managing Media Relations:
The Road to Credibility

Understanding what is news. Responding to different needs of the reporters. Getting the message out. Reports' deadlines. Questions we need to ask.

15:15 - 16:15
The Media and Crisis Communications

Defining and anticipating crises. Crisis team, roles and responsibilities. The Do's and Don'ts of crisis communications and dealing with the media.

Exercise: Dealing with a crisis scenario and developing a media relations approach.

16:15 - 16:30
Wrap-up and Workshop Evaluation

Participants will complete a short evaluation