Meet the Instructor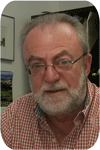 Josef Jurkovic
Josef Jurkovic is a CEC director and founding partner. He has over 35 years of public and private sector experience across diverse areas of internal and external communications, public consultations, branding and marketing.
---
Testimonials
"Great introduction to marketing"
"An excellent interactive learning experience"
"Logical, insightful, helpful, creative and intelligent"
"Very well organized course"
---
G062
THE ESSENTIALS OF MARKETING
IN THE PUBLIC SERVICE ENVIRONMENT
NOTE: The workshop content described below will be delivered through ZOOM ONLINE on two consecutive half-day sessions. Agendas and other relevant workshop documentation will be sent to you by the workshop instructor at least three days prior to the date of the first session.
WHY SHOULD YOU ATTEND?
This one day interactive workshop is designed to provide an understanding of the fundamentals of marketing and their applications in the public sector. In today's client- and citizen-focused public service environment, with its thrust toward shared services and cost-recovery together with ever increasing marketing efforts by many government departments and agencies, public servants need to be able to effectively determine their organizations' marketing requirements and to apply public sector-relevant marketing techniques and approaches.
WHAT WILL YOU LEARN?
The workshop will focus on how to:
Identify the differences between private and public sector marketing approaches, strategies and techniques;
Demystify marketing jargon to increase understanding and buy-in;
Develop marketing strategies and plans at the appropriate levels of detail and complexity;
Develop key steps of market planning to get you "on the right course";
Identify, plan and execute the appropriate marketing mix for your needs;
Create client and customer acquisition, satisfaction and retention strategies within a service delivery framework;
Create a positioning statement that focuses on your organization's uniqueness;
Implement your marketing plans and measure your success;
Create and continually improve your marketing tool kit.
WHAT WILL YOU TAKE AWAY?
Workbook with how-to procedures, templates and references.
Exercise handouts.
PROFESSIONAL COMPETENCIES
Thinking Things Through: Innovating through analysis and ideas
Agenda
8:45 - 9:15

Introductions, Review of Workshop Objectives and Program

9:15 - 10:15
Marketing in the Government of Canada
Differences between public and private sectors. Definitions. Typology of government marketing. Understanding why, what, when and to whom we market. Focus on clients versus audiences. Living-up to organizational and client expectations.
Mini-exercise: Measuring your client capture potential.
10:15 - 10:45
Why Do We Need a Marketing Plan? Setting the Stage
What is a marketing plan? The marketing plan template(s). Levels of complexity. The marketing development process. Role of research and environmental scanning. SWOT analysis. Starting the marketing plan, defining marketing goals, measurable objectives and results.
10:45 - 11:00
Break
11:00 - 12:00
Exercise: Working in groups, participants will undertake a SWOT analysis and develop objectives and results for a marketing plan, based on the case scenario. Group reports and discussion.
12:00 - 12:30

The Marketing Mix - Planning and Execution

Building blocks for the marketing plan. Managing the marketing cycle. Different approaches to marketing strategies. Identifying the appropriate marketing mix and developing a marketing action plan.
12:30 - 13:15
Lunch

13:15 - 14:00
Exercise
Working in groups, and based on the case scenario, participants will identify their market segments and develop a basic marketing strategy and marketing mix. Group reports and discussion.
12:00 - 14:30
Understanding the Customer Relationship. Implications for Positioning
Key principles of customer relationship. Relationship management techniques. Client focus and service delivery framework. Positioning and messaging - definitions and applications.
14:30 - 14:45
Break
14:45 - 15:30
Exercise
Working in groups, and based on the case study scenario, participants will develop a positioning statement for their organizations marketing strategy. Group reports and discussion
15:30 - 16:15
Implementing The Action Plan and Measuring the Success
Developing the marketing calendar. Monitoring progress and measuring success. Developing the marketing tools. Reaching, engaging and captivating your targets.
16:15 - 16:30
Wrap-up and Workshop Evaluation
Participants will complete a short evaluation