In-house Booking Information
Contact Josef Jurkovic for pricing and to arrange for delivery of the LCDP program to your group of 6-8 department/team members.
---
Instructor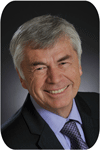 Gerry Maffre, former Director General, Communications
---
MANAGEMENT &
LEADERSHIP COMMUNICATIONS
CONTEXT
Communication is a central component of leadership. It is necessary to achieve results from and with people – as individuals and as members of a team or work unit. It's a necessary skill in engaging and directing those who look to you for both leadership and advice. And it's a skill especially required in the current public service environment.
As communicators and other public servants advance, they will be required to meet new levels of competency in leadership and in communications. They will find themselves in new situations of advising senior managers where an understanding of the latter's environment and of the tools to provide that advice and act on decisions will be key to advancing communication strategies.
This workshop will help you develop as a senior manager operating and advising in a more demanding environment.
WHAT YOU WILL LEARN
Change and its consequences - how do various people and organizations you'll encounter as a manager react to change
Communications' role in managing change – what do you need to do as a manager to ensure you are properly communicating?
Ensuring you are heard at the table – in a time of new relationships, what will help ensure your views and advice are well received and paid heed to?
WHAT YOU WILL TAKE AWAY
Tips and techniques that will help you lead transitions and have productive discussions with your staff, your boss, your colleagues
Participant notebook consisting of presentations slidesand various handouts
NEW FEDERAL COMPETENCIES FOR SENIOR OFFICIALS
Create vision and strategy
Mobilize people
Uphold integrity and respect
Collaborate with partners and stakeholders
Promote innovation and guide change
Achieve results
Agenda
12:30 - 1:15
Lunch
1:15 - 1:30
Introductions & Workshop Overview
PART 1
Perspectives on Leadership
1:30 - 2:15

Perspectives and priorities and implications for aspiring leaders

PART 2
Change and Communications: Being Heard at the Table
2:15 - 3:00

Change and the role of communications, leader's role/expectations
Implications of change
What the table wants in its environment, strategic thinking

3:00 - 3:15
Break
PART 3
Leadership
3:15 - 4:15

Leadership Competencies
Exercise

PART 4
At the Table: Thinking, Trust, Client Relations
4:15 - 4:45

Attributes expected by senior leaders
Summary Exercise

4:45 - 5:00
Session Wrap-up